Western Canada Lottery Corporation Invites Players To Explore CATAN® With The Launch Of Its New Scratch Ticket
WINNIPEG, Manitoba, September 12, 2023 /CNW/ – Pollard Banknote Limited ("Pollard Banknote"; TSX: PBL) congratulates Western Canada Lottery Corporation ("WCLC") on the launch of its CATAN® scratch ticket, marking the inaugural launch of the popular brand within the lottery industry. CATAN is a fast-growing game brand and has proven particularly popular with adults under 35.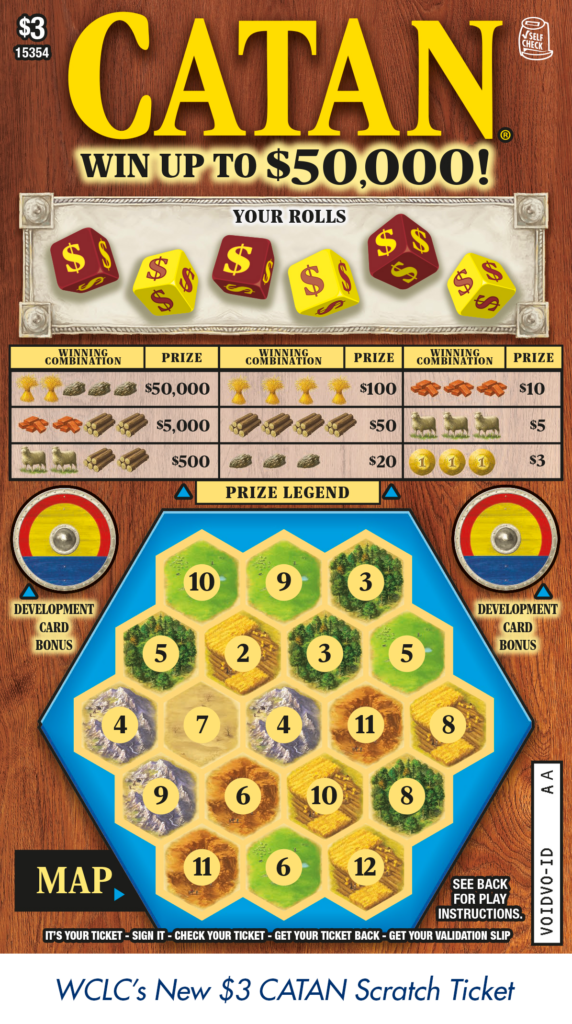 Over 100 million people have played CATAN since its release, making it a modern classic. More than 40 million board games have been sold worldwide, and approximately 20 million people play the game regularly. CATAN's digital presence reinforces the brand's widespread popularity: CATAN Universe, a large online community, has over 550,000 active monthly users.
WCLC's $3 ticket features recognizable symbols from the CATAN world—brick, wood, wool, ore, grain, and gold—that will appeal to board game fans and lottery players alike. With a familiar key number match game style, players scratch hex tiles corresponding to their rolls to uncover game symbols. If they uncover the symbols corresponding with the winning combinations in the prize legend, they win up to $50,000. Adding to the exciting game play experience are two development card bonus features that instantly reward players who uncover a prize amount.
"We're confident the CATAN scratch ticket will be as compelling to our players as the board game is to its loyal global following," said Chelsey Rowledge, Manager, Instant Games, WCLC. "A new product like CATAN is a great boost to WCLC's ticket lineup. Our players are going to love this new and highly entertaining offering, which will help support priority programs and services funded by our partnering provinces and territories."
"We congratulate WCLC on launching the first-ever instant game featuring the wonderful world of CATAN, one of our new licensed brands ready to conquer the lottery industry," said Brad Thompson, Vice President, Sales & Marketing, Pollard Banknote. "With a deeply devoted following and enviable brand recognition, the CATAN instant game is destined to be a player favourite."
Pollard Banknote provided WCLC with an integrated marketing campaign to increase player engagement and drive retail sales. To support WCLC's CATAN launch, for example, Pollard Banknote produced a "How to Play" video explaining the play mechanic (available here on WCLC's website). A play table screen ad for retail and POS support via tent cards and posters provide additional launch support.
About Pollard Banknote
Pollard Banknote is a leading lottery partner to more than 60 lotteries worldwide, providing high-quality instant ticket products, licensed games, in-lane ticket options, and sales-driving merchandising solutions from its Schafer Retail Solutions + portfolio. It also offers a full suite of digital offerings, ranging from world-class game apps to comprehensive player engagement and iLottery solutions, including strategic marketing and management services. The company is a proven innovator and has decades of experience helping lotteries to maximize player engagement, sales, and proceeds for good causes. Pollard Banknote also provides pull-tab tickets, bingo paper, ticket vending machines, and its Diamond Game and Compliant Gaming electronic games and devices to charitable and other gaming markets in North America.  Established in 1907, Pollard Banknote is owned approximately 64.2% by the Pollard family and 35.8% by public shareholders, and is publicly traded on the Toronto Stock Exchange (TSX: PBL). For more information, please visit our website at www.pollardbanknote.com.
About CATAN GmbH
CATAN GmbH is the intellectual property owner of the popular CATAN® brand. Today, its primary product is the CATAN® board game—a contemporary classic. The CATAN brand universe encompasses an array of expansions, extensions, scenarios, standalone games, digital adaptations, stories, merchandise, and other consumer products. CATAN is available in over 40 languages and has sold more than 40 million units worldwide since it was first published in 1995.
About CATAN Studio
CATAN Studio publishes English language CATAN analog board game products, produces engaging merchandise, and fosters community growth through organized play and events. Our dedicated team is devoted to building an enduring, positive, premium, values-based global brand.
About Asmodee Entertainment
Asmodee Entertainment is the outbound licensing and book publishing platform of Asmodee, the global games publisher and distributor. Its mission is to extend Asmodee's intellectual properties into TV/film, novels and comics, location-based entertainment, and consumer products, working closely with Asmodee Boardgames and Asmodee Digital. Through best-in-class partnerships across the full spectrum of opportunities, Asmodee Entertainment will create truly global intellectual properties and brands. For more information, visit https://asmodee-entertainment.biz/
FOR MORE INFORMATION CONTACT:
Pollard Banknote Limited
Telephone: (204) 474-2323
Tags:
Asmodee Entertainment
,
Pollard Banknote Limited
,
Western Canada Lottery Corporation
,
CATAN GmbH
,
CATAN Studio