The Swedish Gambling Authority Visited Great Britain
Strängnäs, Sweden (October 13, 2023) — Spelinspektionen (The Swedish Gaming Authority) has visited Sportradar, which works to collect and analyze sports data, for a presentation of their service. Sportradar also showed the trends regarding match-fixing, globally and in Sweden.
The Gambling Inspectorate also visited the UK's gambling authority (Gambling Commission) to exchange experiences on the regulation of games with a particular focus on the work against match-fixing. The Gambling Commission gave an account of the work in their national platform where they work with the analysis and sharing of information about suspected match-fixing between various designated stakeholders.
The visit also discussed the work against illegal gambling and the importance that we as authorities have a continued close dialogue to counter it. Dialogue was also held about the changes that the Gambling Commission is now carrying out as part of the review of their gambling regulation, where the Gambling Inspectorate reported on Sweden's experiences regarding gambling responsibility and mandatory deposit limits.
– In this way, exchanging experiences with authorities in other countries is an important part of the work to create good conditions for a healthy and safe gambling market, says Patrik Gustavsson, head of the operational department at the Gambling Inspectorate.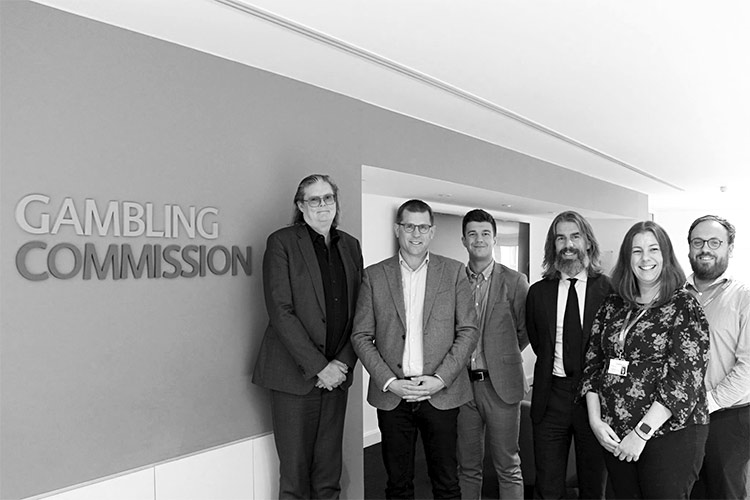 From left: Fredrik Lindquist, Patrik Gustavsson, Samuel Wahlberg and Daniel Bergman from the Gambling Commission and Kirsty Anton and Jamie Wall from the Gambling Commission.
SOURCE: Spelinspektionen (The Swedish Gaming Authority).
Tags:
Gambling Commission
,
Spelinspektionen
,
Sportradar